1785Map Proves once AGAIN DOHKDOE Island belongs to Korean Peninsula Ancestry.
독도DohkDoeIsland Belongs to Korean Peninsula Ancestry
Korean Monarchy is upheld from 2333bc to current North Korean territories where DNA Koreans are fighting off foreign invasion from Russia-From Mongolia-from 56tribe China-From Japan-From USA-from Europe-from Middle East trying to take over Korean Peninsula using Prime Minister-President Elect system of South Korean Peninsula full of foreigners having more rights than Korean Natives living in South Korean Peninsula.
North Korea is Monarchy of Korean Ancestry of DNA Koreans trying to fight genocide by those participating in the UN.
SOUTH Korea is a form of melting pot mix raced Prime Minister-President Elect.
Just as Sweden has Monarchy that reflects the caucasian Swedish population; Just as Sweden, So does North Korea have system of Korean Monarchy reflecting Korean Ancestry DNA since 2333BC.
Just as Sweden has Prime Minister focusing on welfare of the poorest citizens of Sweden; So does South Korea has Presidential Elect-Prime Minister acting President of SOuth Korea whom forsees welfare of the social justice of the Koreans living among foreigners in South Korea.
John Ross
belonged to the United Presbyterian Church which was famous ...
1877
Corean
Primer
: Being Lessons in Corean on All Ordinary Subjects .
Religious Services in Korea servicing Foreigners encroaching Korean Peninsula
Korean-Joseon-Goryo Diaspora speaks Russian in Khazakhstan, Siberia, among 56TribedChina Peking, and across the globe;
KBS 파노라마 : 카레이스키150, 1편 디아스포라-이산 - 08/21/2014
http://www.ondemandkorea.com/kbs-panorama-082114.html

Past Horrors faced by KOreanJoseonGoryoDiaspora; 1.Killing of King's spouse; Queen Assasination. 2. Poison death of the King. 3.Rift between siblings. 4. Political-Financial Bankruptcy by Foreign Deceptions of false promises among same language speaking countrymen. 5.Selling of females to foreigners out of poverty. 6. Selling of babies out of poverty. 7. Language barrier. 8. Ethnic-Ancestry Genocide. 9.Killing of males. 10. Genocide, bankruptcy, slavery; lost of kingdom; robbed DaeHahnJehGoohk; Repetition due to lost of written records by foreign thieves using brother against brother; sister against sister; family against family corruptions.
https://twitter.com/pyeongchang2018/status/815217678126190594
— PyeongChang 2018 (@pyeongchang2018)
FRENCH TOWN In KOREA:: FRENCH K-12 school and LIVING IN KOREA:
외교부

독도
dokdo.mofa.go.kr
Lim Soo-Hyeok
(
Korean
: 임수혁,
Hanja
: 任秀赫, June 17, 1969 – February 7, 2010) was a
baseball
catcher to the
Lotte Giants
.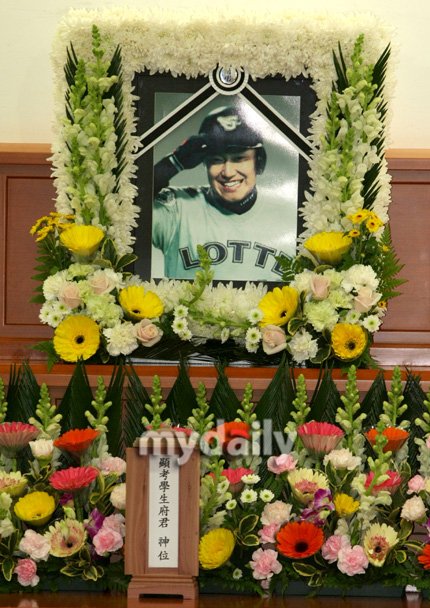 http://blog.naver.com/saheilu/90080681366
On April, 2000, Lim suddenly collapsed at the second base against the
LG Twins
at the Jamsil Stadium in southern
Seoul
. Reports said that Lim collapsed due to a heart arrhythmia or irregular heartbeat and failed to receive cardiopulmonary resuscitation on time. Although an emergency medical service vehicle arrived and transported Lim to a hospital, the brain damage he received from the incident was said to have resulted largely from the lack of first aid soon after Lim collapsed at the stadium. Poor first aid and the ensuing brain damage resulting from lack of oxygen to the brain meant there wasn't much the doctors at the hospital could do to help Lim once he was brought to the hospital. The former baseball player went on to spend the next decade in a vegetative state.
On February 7, 2010, Lim Soo-Hyeok died from a
cardiac dysrhythmia
when he was taken into Kangdong Sacred Heart Hospital in eastern Seoul.
Interview of SoftBank Founder Mr. Son.
https://www.bloomberg.com/news/videos/2017-10-11/the-david-rubenstein-show-masayoshi-son-video
https://www.schwarzmanscholars.org/news-article/softbank-group-corp-chairman-ceo-masayoshi-son-announces-support-for-schwarzman-scholars-from-japan/
https://www.instagram.com/p/BacemX6Bbo-/?taken-by=songilkook